Message to Shareholders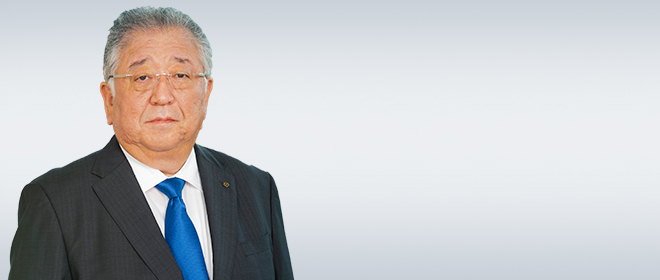 Our goal is to achieve sustainable
growth by contributing to society
through the development and stable
supply of mineral resources and by
harnessing the collective strengths of
the Group as an integrated resource
company.
About Us
Nittetsu Mining Co., Ltd. ("our company") was established after separating from the mining division of the former Japan Iron & Steel Co., Ltd. (presently, Nippon Steel Corporation) in 1939. The intention was to develop and steadily supply raw materials, such as coal, iron ore, and limestone, for steelmaking.
Since then, our company has prospered and expanded, while bearing a heavy responsibility for supplying raw materials to basic industries in Japan through the development of underground resources. Amid a revolution in the resources and energy sectors during a period of economic growth, our main operations have changed from coal to metal, further changing to nonferrous metals, such as limestone, etc. Today, our company has established a unique position in the industry as a comprehensive resources corporation engaged in mine development both at home and overseas.
From now on, responding to social demand, we will make every effort to steadily supply these resources. At the same time that we are using the traditions and technologies accumulated over a long period, we will tackle the development of other technologies around mines, such as security and the development of new resources both at home and overseas; adding value to mineral resources; and consulting on mining and geology, among other activities. We will take further action to strengthen our business base as a comprehensive resources corporation in order to achieve further growth.
In addition, we will contribute to our shareholders, customers, and community by demonstrating the total strength of our company group and through the development of such businesses as machinery and other products centered on preserving the environment, as well as the real estate business, renewable energy, etc.
Business Results
During fiscal 2021, the year ended March 31, 2021, amid the major downturn in the world economy caused by the COVID-19 pandemic, Japan's economy continued to face challenging conditions as the country experienced a resurgence in COVID-19 cases despite seeing signs of an economic recovery materialize temporarily.
Amid these economic conditions, the Nittetsu Mining Group posted net sales of ¥119,159 million, up 1.4% year on year, due to an increase in sales of the Metallic Minerals Division.
As for profits, operating profit rose to ¥8,726 million, up 15.2% year on year, thanks to the improving bottom line of the Metallic Minerals Division, and ordinary profit increased to ¥9,629 million, up 20.2% year on year, as both profit indicators rose over the previous fiscal year. However, profit attributable to owners of parent declined to ¥3,746 million, down 17.1% year on year. This decrease is attributed to the booking of extraordinary losses from the fire that occurred at the Company's Torigatayama Quarry Complex, and other factors.
Future Outlook
The Company believes the future outlook will remain unpredictable. This is because it appears time is still needed until the COVID-19 pandemic is brought fully under control. In addition to future uncertainty about the economy, there are concerns about the impacts of natural disasters that are growing in intensity, along with volatile foreign exchange rates and unstable commodity prices. Moreover, the management climate facing the Nittetsu Mining Group is experiencing substantial changes caused by the impacts of structural reforms undertaken by steelmakers and initiatives by governments and the private sector aimed at achieving a decarbonized society.
Amid these economic conditions, the Nittetsu Mining Group will improve and reinforce its management structure and strive to improve business performance by working to strengthen and expand its business foundation. This includes addressing the management environment to further reinforce sales, increase productivity, reduce costs, and enhance its business continuity plan (BCP).
Going forward, we will also strengthen corporate governance as well as sustainable growth and improve corporate value over the medium to long term, in order to fulfill our responsibilities to supply raw materials to key industries and contribute to co-prosperity with stakeholders, including shareholders, business partners, local communities and employees.
Furthermore, the Group carries out activities in compliance with ISO 14001, greenery initiatives at mined sites, acquisition of certification for company-owned forests, and power generation from natural energy. Going forward, we will continue to engage in eco-friendly business activities.
We extend our appreciation to all shareholders and ask for your continued support and cooperation.
June 2021
Reiichi Morikawa
Representative Director and President