Medium-Term Management Plan
Medium-Term Management Plan
Second Medium-Term Management Plan (FY2021 to FY2023)
Long-Term Vision
Achieve sustainable growth by contributing to society through the development and stable supply of mineral resources and by harnessing the collective strengths of the Group as an integrated mineral resources company.
Second Medium-Term Management Plan Basic Policy
Basic Policy
We will steadily implement large-scale investments, aiming to acquire resources for sustainable growth.
We will allocate management resources in response to demand trends in Japan and overseas.
The current medium-term management plan period is a time for full-fledged implementation of large-scale investments with an eye to future growth. The third shaft at the Torigatayama Quarry Complex (limestone) is under construction with the aim of beginning full-scale operation in fiscal 2023. We will proceed with development at the new mining area at the Hachinohe Mine, already under development, and at the Arqueros copper mine, which is in the development preparation stage, aiming for full-scale operation in the next medium-term management plan period.
We recognize that it is important to respond flexibly to demand trends in Japan and overseas, especially in relation to structural reform at steel manufacturers, which are major purchasers of limestone, while securing profits that can handle such active investments and maintaining financial soundness.
For this reason, we will work to identify growth areas and develop demand in all our businesses, and strive to balance our SDGs initiatives with our business activities.
Balancing Business Activities and SDGs Initiatives
We will balance our business activities that aim for the sustainable growth of the Group and our SDGs initiatives.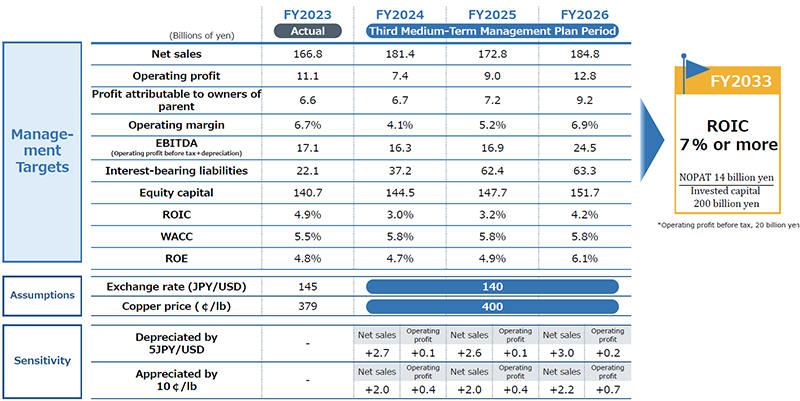 Financial Indicators and Medium- to Long-Term Management Goals
We will improve our ROA (return on assets) in order to improve operating profit through the efficient operation of total capital.
We will maintain a stable capital equity ratio.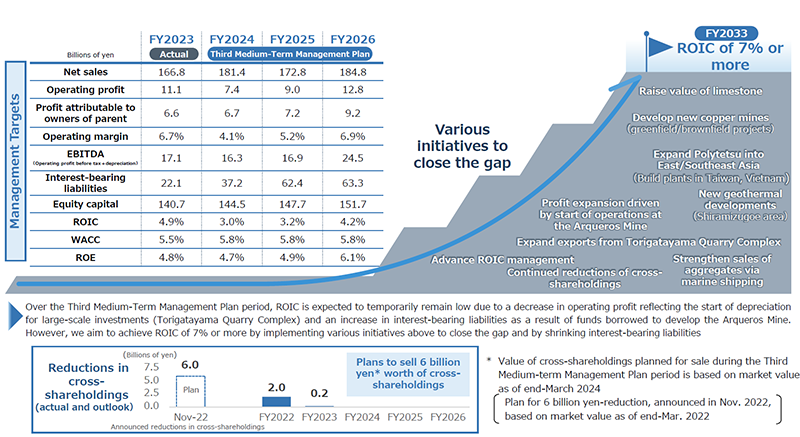 Numerical Target
(Assumptions) Exchange rate: ¥105 = US$1, copper price: 350 cents/pound ($7,716/ton)
(Billions of yen)
FY2019
results
FY2020
results
FY2021
plan
FY2022
plan
FY2023
plan
Net sales
117.5
119.1
128.4
125.6
123.8
Operating profit
7.5
8.7
9.4
9.0
7.3
Financial Plan and Capital Investment Plan
(Billions of yen)
FY2019
results
FY2020
results
FY2021
plan
FY2022
plan
FY2023
plan
EBITDA
12.9
14.0
15.2
14.8
15.4
Capital investment
8.8
7.5
12.1
13.2
17.3
Depreciation
5.3
5.3
5.8
5.8
8.1
※EBITDA: Operating profit + depreciation
Policy on Shareholder Returns
Our core business, the mining industry, is an extremely long-term business, starting with research and development before moving on to subsequent operations spanning several decades or more. During that time, profits will vary due to fluctuations in the price of resources and other factors. However, given the business characteristic of a long life-cycle, and in order to prepare for future investments aimed at sustainable growth, we will provide a stable dividend over the long term while maintaining an optimal balance between improvements to shareholders' equity and returning profits to shareholders.
FY2021 to FY2023
Seek to return a consolidated payout ratio of 30%
| FY2018 | FY2019 | FY2020 |
| --- | --- | --- |
| 17.1% | 16.6% | 22.2% |
| 110 yen/share | 90 yen/share | 100 yen/share |
※Reference: Past consolidated payout ratios
Download as PDF file
Note: Details concerning the plans or forecasts appearing on this page were prepared based on certain conditions determined to be reasonable by the Company at the time. The Company does not guarantee the accuracy or completeness of this information. Actual business performance could vary substantially from the plans outlined here due to various risk factors and other elements of uncertainty.