Nonmetallic Minerals Division
Nonmetallic Minerals Division

Nonmetallic Minerals Division supporting Japan's 100% self-sufficiency for limestone
Limestone, the main product of our company's Nonmetallic Minerals Division, is a sedimentary rock formed by deposits of the bones and shells of sea creatures, including coral, that have accumulated on the bottom of the sea for hundreds millions of years, then brought to the surface by crustal movement.
Though Japan has few natural resources, limestone is an underground resource enabling us to boast that self-sufficiency to 100%, and the domestic annual production is 140 million tonnes.
Our company has limestone mines across Japan, such as the Torigatayama Quarry Complex in Kochi Prefecture, the largest mine in the country; the Shiriya Quarry Complex in Aomori Prefecture; the Oita Quarry Complex in Oita Prefecture; and others. Our annual production, placing us among the top class domestically, is about 24 million tonnes. We supply domestic steel and cement manufacturers, and a portion is exported overseas to such countries as Australia and Taiwan.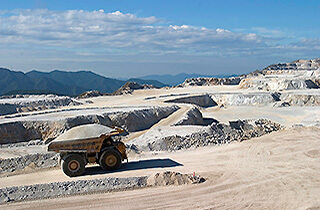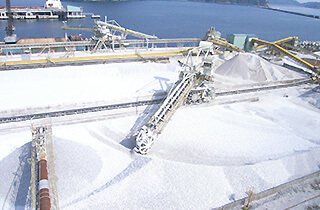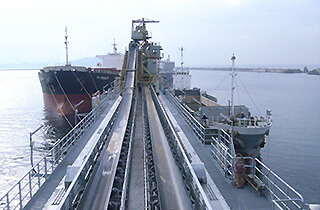 The main component of limestone is calcium carbonate. Given its characteristics, limestone is used as both a main and secondary raw material for industries representative of Japan, such as steel and cement.
Further, the application of fine powder (calcium carbonate) crushed from limestone is used widely, for such items as construction aggregate, desulphurization agents for power stations and waste disposal facilities, etc., as well as fillers for asphalt, fertilizers, feed, glass, rubber, papermaking, sugar refining, medical treatments, and food. Limestone has become a mineral resource that is closely related to our daily living.
In addition, our company has opened quarries in various places around the country, and supplies a range of aggregates to other companies throughout Japan.
Our company is responding the extensive needs of customers as well as opening up new avenues of use with exhaustive quality control and full use of technologies accumulated over a long time.
Product development
Product development as a resource company utilizing mineral resources
Our Nonmetallic Minerals Division is tackling product development that uses mineral resources by using the technical knowhow cultivated over the years as a resource company.
The main products that we are developing are inorganic papers (flameproof and calcium carbonate papers) made from inorganic fine particles that include main raw materials, such as aluminum hydroxide and calcium carbonate. This inorganic paper is widely used for flameproof building materials, insulation boards, and other products. Aside from white limestone, other fine particle businesses are being developed: quicklime, high purity silica, and a paper shoe insole called Asheet.
Also, we have broad product lines, capitalizing on our business network, that include A・C heavy oil for marine fuels and lubricants, as well as several kinds of fuel oil and other petroleum products for industrial use as a sales agent for ENEOS Corporation, in addition to sales of imported coal, coke, LPG, and other products.
From now on, as a comprehensive resources company that supports all industries in Japan, our company will be deeply involved with every resource.
Initiatives for the Environment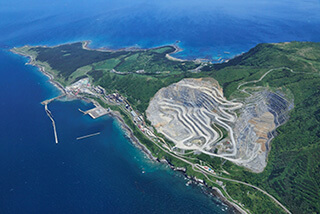 Considering that coexistence and co-prosperity with the natural environment and the community are essential for continuing business in the mining industry, our company is aggressively tackling global environmental conservation by reducing mine pollution, reducing the environmental load, and more, including cooperating with the people living near our sites.
Since 1998, as a part of our global environmental conservation initiatives, we set out to acquire ISO 14001 certification for environmental protection, and all our mines have now acquired this certification.
Every one of our businesses aims at helping the company become respectful of the global environment, by setting up energy-saving targets for fuel and electricity. In this way, we reduce the environmental burden, promote measures that reduce the rate of global warming, while making every effort to save energy through environmental control. Also, to become a more recycling-based society, every business carefully consumes materials, water, electricity, and oil to reduce waste.
Further, as a mining company that has been working with the underground materials for a long time, we have started geoscientific research on technical developments by using our knowledge and experience. This research covers geology, geophysics, rock mechanics, hydraulics, and hydrology, as well as environmental protection studies for preventing the pollution of soil and underground water.
In our corporate activities from now on, it will be necessary to take care for not only of the regional but also the global environment. Every business will promote activities that tackle environmental issues, such as saving energy and resources, among others.